Delaware Driving Laws
Driving is a privilege - don't lose it!
Delaware has laws and regulations for teen drivers to follow.
There are many driving infractions that can cause you to lose or restrict your brand new driving privileges. This page contains the legal information for obtaining your Learner's Permit, guidelines for motor vehicle driving violations (points and speed violations; suspensions), and underage drinking information (revocation).
---
21 Del. C. §2710.
Issuance of a Level 1 Learner's Permit and Class D operator's license to persons under 18 years of age.
The graduated driver license program is designed to reduce the high accident and fatality rate of minor drivers. Minors will receive additional supervised driving experience and reduced exposure to high-risk driving situations. The parent or sponsor will actively participate in training the minor and determine when the minor is capable of increased driving authority.
---
Administrative Code 2208.
Driver Improvement Problem Driver Program (Formerly Regulation 45).
The State grants you the privilege of operating a motor vehicle only as long as you drive safely and obey the rules and regulations. If you violate driving laws, your driving privileges may be suspended or revoked. The period of the suspension or revocation varies with the type of offense(s) committed. A fee of must be paid to reinstate a suspended license. A fee is charged to reinstate a revoked license. You may be required to complete all driver license written, road, and eye-screen tests before reinstating your license. Suspension of a license is a temporary removal of your driving privilege. Revocation of a license is a cancellation of your driving privilege.
---
21 Del. C. §4177L. Driving by persons under the age of 21 after consumption of alcohol; penalties.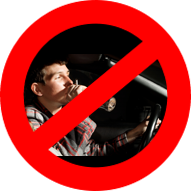 Zero Tolerance Law: If you are under 21 years of age, as little as one drink can make it illegal for you to drive. The law says that anyone under the age of 21 years, who drives, operates or has actual physical control of a vehicle, an off-highway vehicle, or a moped while consuming or after having consumed alcohol, shall have their driver's license revoked for a period of 2 months for the first offense and not less than 6 months or more than 12 months for each subsequent offense.
---